Advertisements
Advertisements
Moto X3M
Moto X3M is an ultimate online racing game, which is very suitable for players who love extreme sports. With the different levels in challenges, the extremely dangerous but no less attractive high speed, the game will blow you away with its exciting features. It can help you to have interesting relax time.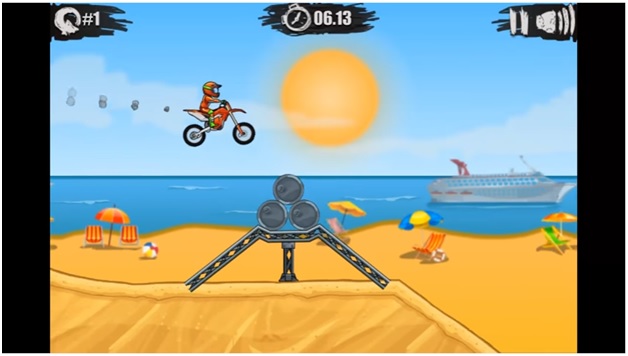 In the game, you will play with a character and start dangerous races on his motorcycle. On each journey, players will have to overcome difficult obstacles or difficult terrains. The difficulties appear throughout the journey, there is no place for you to lose your concentration. Moto X3M game requires players to have the professional skills to control the motorcycle steadily, so that players and their character can still be safe from the difficult terrains.
How to play Moto X3M Game
The rule of the Moto x3m game is very simple. Your mission in the game is just to safely reach the destination and try your best to overcome all of the challenges on your way to the destination as soon as possible.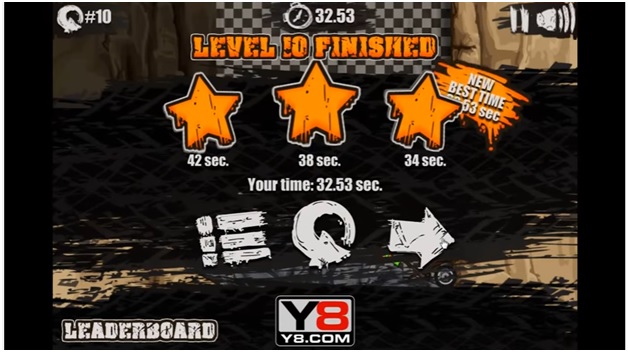 Players ought to overcome all of the traps on the way to achieve 3 stars in each level.
To get the first star, you have to complete the level pretty fast, in only 47 seconds.
To get the second star, you have to complete the level quite fast, in only 43 seconds.
To get the third star, you have to complete the level in very high speed, in less than 39 seconds.
All you have to do is to use the keyboard skillfully to control your character and the motorcycle
Use the arrow keys (up, down, left and right) to direct the motorcycle, speed up or speed down.
Use the space bar to brake or stop your motorcycle.
What attracts you most when you play Moto X3M game.
With 22 levels of addictive challenges, Moto X3M brings you very exciting races, which have never ever been so boring. In the game, you are on your motorcycle for racing, and you have to pass so many different hard obstacles. On your way directing to the destination in each level, you have to be careful to overcome all the challenges, which may slow you down and make you lose.
Besides being skillful and careful in overcoming difficulties, players have to complete missions in each level as fast as possible to get full of 3 stars in each level and achieve great records. On your way, you should reach the green traffic lights as many as possible. They are important landmarks, and they will be useful when you unluckily lose a life, you will come back to the nearest green traffic light to continue your race.
The difficulty of the levels will, of course, gradually increase after each level. The higher is the level, the more danger and traps are on your way. Therefore, you have to make sure that you are very concentrated, so that you can overcome all these challenges and complete the mission in very high speed.
Moto x3m is a free game which is suitable for any ages or genders with the simple rule. In addition, the game is so funny and good for relaxing. You can play Moto x3m game with your smart phones or computers. Moreover, you can play online and even download it to your computers or smart phones without paying to play it anytime, anywhere, it will not use too much of your memory.
Moto x3m game has simple graphic design, but it still appeal to players with the beautiful scene on the both sides of the racetracks. In each level, there are different scenes, for example, under the cliff rocks, snow-capped mountains, winding cliffs, and so on. The music played when your play Moto x3m game is another attractive feature of the game. It makes players more nervous and exciting.
The following versions of Moto X3M are now released with the names: moto x3m 2 and moto x3m 3 with the upper difficulty and more addictive levels. If you love challenging yourself in another new way, Moto X3M will not let you down.